Photo Info

Sanctuary Retreats

Photo Info

Serengeti Pioneer Camp

Photo Info

Sanctuary Retreats

Photo Info

Sanctuary Retreats
Summary

Itinerary

Pricing

Options

& Add-ons
Tanzania: In the Footsteps of the Migration
Witness the amazing spectacle of the great migration and experience Tanzania's wildlife.
Trip Highlights
Tarangire | Ngorongoro Crater | Serengeti
The experience contributes to ending poverty in all its forms, everywhere and helps to ensure availability and sustainable management of water and/or sanitation for all.
Experience
Witness the great Migration, "the Greatest Show on Earth"
Close encounters with Africa's wildlife in open safari vehicles
A descent into world's largest volcanic caldera
Ultra-luxurious safari camps
Explore
Three wildlife areas: Tarangire's baobab studded landscapes, the wildlife rich plains of The Serengeti and the unique Ngorongoro crater home to the densest population of animals in Africa
Taste
A picnic lunch on the floor of the Ngorongoro Crater
Choice
At additional cost:
Soar over savannahs on a balloon safari
Visit a traditional Maasai homestead
---
PCR Testing – we can't take the test for you, but we've got the where and how covered!
Most countries and airlines require proof of a negative Covid PCR test. As your safari experts, we know their requirements and will take care of scheduling tests during your travels in Tanzania, so that it's conveniently planned into your itinerary and taking into consideration that results take between 24-72 hours. Tests cost between $100 and $330 per person, per test including transport to the testing facility. Your Africa Specialist will give you more information as it relates to your itinerary.
---
Day 1 - Kilimanjaro/Arusha
A Lion World Travel representative will meet you on arrival at Kilimanjaro International Airport and transfer to you to Arusha where you can relax after your long journey.
Arusha Coffee Lodge is located on the outskirts of Arusha, hidden amongst one of Tanzania's largest coffee plantations. Arusha Coffee Lodge is full of sensory experiences that revitalize the body and soul for the adventures and excitement that lie ahead.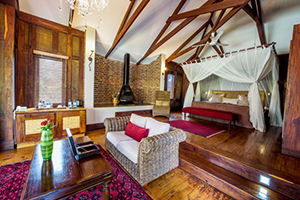 Arusha Coffee Lodge
The theme of coffee is never far away at Arusha Coffee Lodge, where the theme coffee bean permeates even the interior designs of both the main bedroom as well as the beautifully appointed en-suite bathroom. All chalets have a mini-bar, tea and coffee making facilities, ceilings fans, safes and hairdryers; each chalet also has its own coffee-grinder and percolator in the spirit of a true coffee estate experience. The dining menu features an array of traditional Tanzanian cuisine as well as variety of other African specialties.
Accommodation: Arusha Coffee Lodge - Plantation Room
Day 2 - Tarangire
Fly to the Tarangire National Park, one of the most exciting and least visited parks in the country. A scenic drive takes you to Tarangire Treetops.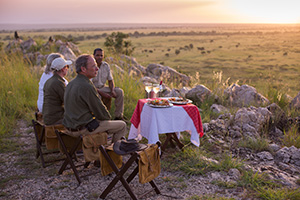 Sundowner drinks stop at Tarangire
Innovative and stunningly original, the 5-star Tarangire Treetops consists of large tree houses built upon platforms amongst a cluster of Baobab, Mopani and Wild Fig Trees. This luxury safari lodge is located within the Tarangire Conservation Area on the eastern border of Tarangire National Park. The lodge features 20 luxury en-suite rooms, built atop tree-attached platforms, overlooking the Tarangire Sand River. The dining area is situated close to the swimming pool and elephant waterhole. Each spacious ensuite unit has a private veranda and lounge area, with sweeping views over the surrounding bush.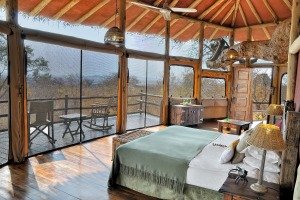 Tarangire Treetops, room with a view!
Accommodation: Tarangire Treetops - Treetop Room (B, L, D)
Read More
Day 3 - Tarangire
Morning and afternoon safaris bring you close to the large concentrations of elephant. The river attracts an abundance of game and you may find leopard resting in the shady trees. When not out on game drives enjoy a bush walk or a visit to the local Maasai community, or perhaps soar over the park in a hot air balloon.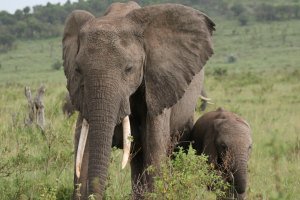 Elephants of Tarangire
Accommodation: Tarangire Treetops - Treetop Room (B, L, D)
Day 4 - Ngorongoro Crater
Today you drive to Gibbs Farm for lunch. Overlooking the coffee fields and stunning East African vista, surrounded by terraced flower gardens and ancient trees, a visit to Gibb's Farm provides the opportunity to experience nature first-hand. You will discover an organic oasis, replete with natural beauty, healthful food and sustainable living.
After lunch continue to Ngorongoro Serena Safari Lodge.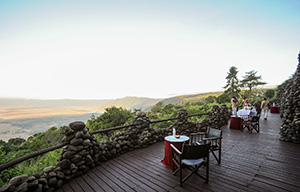 Ngorongoro Serena Lodge
This unique lodge in Tanzania clings to the rim of the magnificent Ngorongoro Crater, the largest and most perfect volcanic crater on Earth. Long and low, the lodge is built from local river stone and camouflaged with indigenous vines. Designed to blend completely into the landscape, it is entirely invisible from the floor of the Crater 2,000 feet below.
Spend the afternoon at leisure or enjoy an optional Ngorongoro Nature Walk.
Accommodation: Ngorongoro Serena Lodge - Standard Room (B, L, D)
Day 5 - Ngorongoro Crater
Descend into the Ngorongoro Crater, a UNESCO World Heritage Site. It features the world's largest unbroken volcanic caldera with sides so steep that it has become a natural enclosure for a wide variety of wildlife, including most of the species found in East Africa. Nearly three million years old, the ancient caldera shelters 25,000 large mammals.
Observe this wildlife spectacle on a game viewing drive within the crater and enjoy a picnic lunch served at a scenic spot on the crater floor.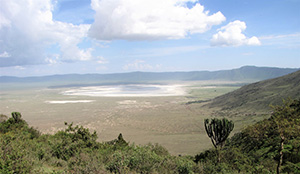 View of Ngorongoro Crater, by Jordan Knoll
Later return to the lodge for a candle-lit dinner and the opportunity to share the day's experiences.
Accommodation: Ngorongoro Serena Lodge - Standard Room (B, L, D)
Day 6 - Serengeti
Fly to the Serengeti and transfer to your camp which has been carefully chosen for the best possibility of witnessing the Great Migration.
Between December and March
You will stay at the remote Sanctuary Kusini Camp in the Southern Serengeti. The camp overlooks plains where game are seen all year round and the migrating wildebeest and zebra congregate between December and March. Spacious open-plan tents, with large private verandahs have lovely views and personal attendants to cater to your every need.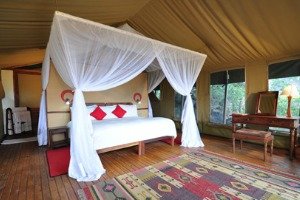 Classic safari styles at Sanctuary Kusini Camp
Between April and May
Fly to the Serengeti Pioneer Camp located in South Central Serengeti and ideally situated for terrific access to the annual migration. Tents with amazing views are designed to evoke the best of an era long-gone. Evocative room interiors combined with exemplary service and exceptional game viewing opportunities make this a top choice.

Cheetahs in the Serengeti, by Linda Bonanno

Between June and July
A member of the Small Luxury Hotels of the World group, Kirawira Serena Camp offers the epitome of classic 'Out of Africa' safari camp luxury. It is located adjacent to the famous western corridor of the Serengeti National Park - arena of the 'Greatest Wildlife Show on Earth', the annual migration of over one million wildebeest.
Designed in typically Edwardian style, this exclusive camp has 25 widely-spaced luxury tents, raised on timber platforms, each with a glorious view of the plains. Each tent has a spacious furnished deck leading to a bedroom furnished in antique Edwardian style with steamer-trunks, writing desk, brass lamps, rugs, sepia photographs and four-poster bed with patchwork quilt. Each tent has its own personal valet.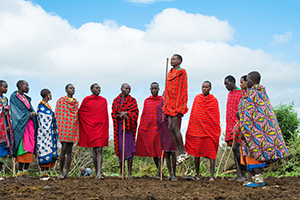 See the Maasai people in Tanzania, by TAASA
Between August and November
TAASA Lodge features en-suite tents that are luxurious and spacious. Each one seamlessly blends modern comforts with uniquely African accents. Enjoy stunning views from the serenity of your private verandah or cool off in the infinity pool, built seamlessly within the lush gardens. Meals are offered inside the main lodge, outside 'al fresco' on the terrace, or on your private veranda outside your tent upon request. Or you can enjoy a picnic in the bush.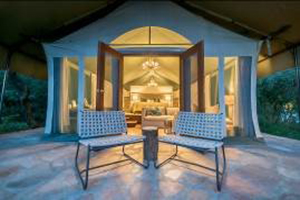 A modern, luxury tent at TAASA
In the late afternoon it is time to load into the open-sided Toyota Land Cruiser with warm blankets and head out as the sun sets and into the dark of night under starlit skies. There will be a stop for a drink at sunset in the bush. The experience of a game drive at night is very different from one during the day and you may see striped hyena on the prowl or lions on hunt.
Your guide will be in his tracker's chair mounted on the vehicle front with his floodlight sweeping for reflective eyes of predators. One never knows what will be lurking in the dark, but it is guaranteed to be electrifying and totally unlike your daytime game drives.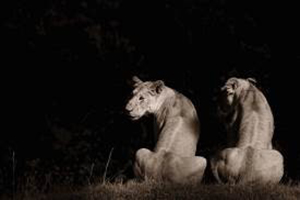 Enjoy a night game drive when staying at TAASA
Return to the lodge with time to relax on the large outdoor patio perched on a hill above the tents and overlooking the valley, as you sit around a bonfire and lounge chairs providing the perfect venue for aperitifs and hors d'oeuvres or simply for reading, relaxing and meeting other guests.
After cocktails you will enjoy a classic African dinner.
Accommodation: Sanctuary Kusini Camp  OR Kirawira Luxury Tented Camp OR Serengeti Pioneer Camp  OR TAASA Lodge (B, L, D)
Day 7 - Serengeti
During certain months of the year (typically June – October) the migratory herds of wildebeest and zebra make for one of the natural world's most spectacular sights. River crossings, especially, are not to be missed. After dithering back and forth on the banks one brave wildebeest jumps in, with hundreds following behind. The migration is a phenomenon that must be seen to be believed.

Zebras in the Serengeti, by TAASA
You will be mesmerized by the sights and sounds of the natural world at its most impressive.  
Morning and afternoon game drives provide amazing opportunities to photograph resident wildlife and go in search of the Great Migration and the predators that accompany them. Whether it is their birthing season on the plains, or a crossing of the Grumeti or Mara Rivers, if the timing is right you may be lucky enough to witness this amazing spectacle!

See the Serengeti Wildebeest Migration
Accommodation: Sanctuary Kusini Camp OR Kirawira Luxury Tented Camp OR Serengeti Pioneer Camp OR TAASA Lodge (B, L, D)
Day 8 - Serengeti
Another day of thrilling game viewing in the Serengeti. Morning and late afternoon game drives provide the best wildlife viewing opportunities; while nature walks, night drives or even hot air balloon options vary by time of year and the safari camp you choose. 
At TAASA Lodge, for example, your day could include a balloon safari (booked at additional cost). You will have an early wakeup call and transfer to the launch site where you will experience the expanse of the Serengeti from above on a magical balloon safari.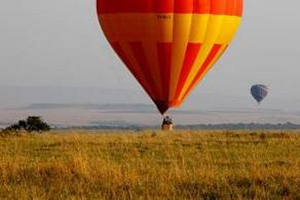 A Hot Air Balloon ride in Tanzania
As the sun rises, the crew completes the necessary preparations to ensure a safe and enjoyable flight.  The pilot gives you a last-minute briefing on safety procedures and the powerful burners are ignited to bring the colorful craft to life. The balloon silently soars over the vast Serengeti savanna revealing the wildlife roaming below. The pilot gently lands on the open plains.  Return to the lodge for breakfast. TAASA is also one of a select few lodges in Tanzania that can offer night drives under the starry African skies. Throughout the year, there are ample lion, cheetah and hyena. While on night drives you may also get to see genet cats and serval cats.  And if you're lucky, you might even spot our resident leopard in the bush. The world-famous Serengeti plains are a popular feeding ground for herd animals, including buffalo, elephant, giraffe, wildebeest, zebra, eland, Thomsons gazelle, and the endangered rhino.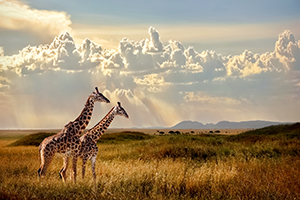 Watch giraffes roam free in the wild
After the excitement of game viewing, savour a superb gourmet meal, accompanied by a selection of fine wines.
Accommodation: Sanctuary Kusini Camp OR Kirawira Luxury Tented Camp OR Serengeti Pioneer Camp OR TAASA Lodge (B, L, D)
Day 9
Bid Africa goodbye as you fly to Kilimanjaro for your international or ongoing connection. (B)
Return home with memories of a trip of a lifetime!
Add-Ons
Gorillas of Rwanda
For a truly amazing wildlife adventure, visit Rwanda to see the mystical Mountain Gorillas in their natural habitat, a magnificent experience.
See the detailed  itinerary
here
Azure Zanzibar
The perfect complement to your African adventure! Relax on sun-kissed beaches, explore coral reefs, and learn about Zanzibar's fascinating history.
Click for more details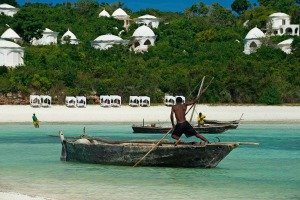 Contact a Lion World Travel Africa Specialist to learn about adding these adventures onto your travels.
Prices are per person in US Dollars, for land arrangements only, based on double occupancy accommodations. Based on a minimum of 2 passengers to operate. Single supplement pricing available on request.
Sanctuary Kusini 2021 & 2022
Scroll for more →
| | | | | | | |
| --- | --- | --- | --- | --- | --- | --- |
| | Jan 11 - Feb 28 2021 | Mar 1-31 | Dec 1-15 | Jan 11 - Feb 28 2022 | Mar 1-31 | Dec 1-15 |
| Selling Price | $8399 | $7999 | $6599 | $8599 | 8199 | $8199 |
Serengeti Pioneer Camp 2021 & 2022
Scroll for more →
| | | |
| --- | --- | --- |
| | Apr 1 - May 31 2021 | Apr 1 - May 31 2022 |
| Selling Price | $6399 | $6299 |
Kirawira 2021 & 2022
Scroll for more →
| | | | |
| --- | --- | --- | --- |
| | Jun 1-30 2021 | Jul 1-30 | Jun 1 - Jul 31 2022 |
| Selling Price | $7399 | $7899 | $7299 |
TAASA Lodge 2021 & 2022
Scroll for more →
| | | | | |
| --- | --- | --- | --- | --- |
| | Aug 1 - Oct 31 2021 | Nov 1-30 | Aug 1 - Oct 31 2022 | Nov 1-30 |
| Selling Price | $8399 | $7499 | $8499 | $7599 |
Inclusions:
All transport and game drives in an 8-seater, 4x4 safari vehicle with a pop-up roof for easy game viewing & photography with an English-speaking driver/guide
Guranteed window seat
Game drives as indicated in the itinerary
Internal flights
All accommodation and meals as specified 
All park fees and government taxes 
Lion World Travel representative meet & greet upon arrival
Exclusions:
International flights and flight taxes
Visa fees
All items of a personal nature, e.g. drinks, tips, laundry, etc.
Changes or deviations from the itinerary
Porterage
Trip Cancellation, Interruption and/or Medical Insurance – please note that insurance for this trip is a mandatory requirement from suppliers in Africa – proof of insurance must be provided before bookings are confirmed. It is your personal responsibility to ensure you have enough travel insurance coverage from the provider of your choice. Please let your Africa Specialist know if you would like information on this.
Baggage
Click here for airline baggage restrictions.
Baggage allowance: Baggage is restricted to 15kg/33lb per person including hand luggage (this includes camera equipment) on safari vehicles as well as on any domestic flights, as space is limited. Soft-sided luggage or duffels are preferable to hard luggage for storage on safari vehicles and on aircraft used within East Africa. Large suitcases of dimensions greater than 24" x 17"x 7" are impossible to store in vehicles and on aircraft and should not be used. (Baggage and personal effects are at owner's risk throughout the tour and baggage insurance for members is strongly recommended).
*Prices in USD, based on double occupancy, restrictions apply
Speak to an Expert
1-800-387-2706