Photo Info

Heritage Hotels

Photo Info

Heritage Hotels
Summary

Itinerary

Pricing

Options

& Add-ons
Kenya Exclusive Tented Safari - Land Only
A superb Kenyan wildlife safari staying in romantic intimate camps in Amboseli, Samburu and the Maasai Mara.
Trip Highlights
Amboseli | Samburu National Reserve | Maasai Mara
Relax
In luxurious intimate tented accommodations in stunning locations
Unwind as you witness stunning African sunsets while sipping a sundowner
Discover 
Amboseli with its large tusked elephants and views of snow-capped Mount Kilimanjaro
The great plains of the Maasai Mara
Rare and unique animal species in the Samburu
Experience
Open-vehicle safaris that bring you close to Africa's wildlife
Candle-lit dinners under the vast African sky
The pulsing beat of a Maasai traditional dance.
Choice
At additional cost:
Aerial views over the endless plains on a balloon safari
Visit a traditional Maasai homestead
---
PCR Testing – we can't take the test for you, but we've got the where and how covered!
Most countries and airlines require proof of a negative Covid PCR test. As your safari experts, we know their requirements and will take care of scheduling tests during your travels in Kenya, so that it's conveniently planned into your itinerary and taking into consideration that results take between 24-72 hours. Tests cost between $100 and $330 per person, per test including transport to the testing facility. Your Africa Specialist will give you more information as it relates to your itinerary.
---
Day 1 - Nairobi
Jambo and Welcome to Nairobi! Relax overnight at the stunning Hemingways Nairobi,
The 5-star Hemingways Nairobi is a boutique hotel that elevates the standard of luxury service for travelers. This plantation-style property is airy and spacious. Hemingways Nairobi is only a 40-minute drive away from Nairobi's Jomo Kenyatta International Airport.
Lofty, expansive rooms with vast, bright en-suite bathrooms are characteristic of this property. Each room has an attentive butler on hand to rustle up a treat from the pantry and tend to every detail in your room. Beyond the balustrade of your private balcony, is the view of The Green Hills of Africa, as described in Hemingway's novel. With aspirations of being the first Michelin-starred venue in Nairobi, Hemingways is bringing new vigor to the dining scene in Kenya. The menus are contemporary European in style, characterized by a focus on retro-classics with an ultra-modern twist. Complimentary wired and Wi-Fi internet access is available.
Accommodation: Hemingways Nairobi – Standard Room
Day 2 - Nairobi/Amboseli
After breakfast, you will be transferred to Wilson Airport for your light aircraft flight to Amboseli National Park, home to the legendary Maasai tribesmen and known for its unrivalled views of Kilimanjaro and large elephant population.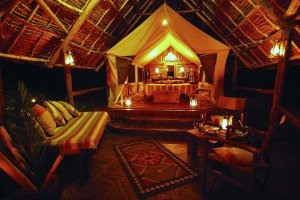 Start your safari with an afternoon game drive as you drive to your spacious, luxury tent at Tortilis Camp. The 4-star camp is widely regarded as the prime location for witnessing the majesty of Africa's largest mountain, Kilimanjaro. All the makuti-covered tents are spacious, with elegant en-suite bathrooms. There is a main lounge, bar and dining area, all exquisitely built with natural materials and thatched roofs, with magnificent views of Kilimanjaro.
Game drives, walks, sunset drinks and bush meals take place both inside the park and within the private 30,000-acre game concession. The camp's open game drive vehicles are unrivalled with feature enhancements specifically designed for comfort and photography – open sided with 3 rows of seats, photographic equipment stands, and charging sockets.
Accommodation:  Tortilis Camp - Standard Tent (B, L, D)
Read More
Day 3 - Amboseli
Rise early for good views of Mount Kilimanjaro before clouds build up over the summit, then set off for another stimulating game drive. In Amboseli you may view a multitude of wildlife, including everything from lion and cheetah to wildebeest, elephant, giraffe and baboons.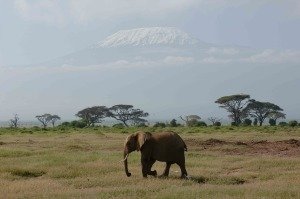 Guided walks with guides from the local Maasai community will introduce you to the small things – tracks, dung beetles, micro-ecosystems. The guides are happy to share their knowledge of the terrain, traditional uses of local vegetation, and the Maasai way of life.
Accommodation:  Tortilis Camp - Standard Tent (B, L, D)
Day 4 - Amboseli/Samburu
Today you will fly north to the Samburu National Reserve, an arid semi-desert land sparsely populated by proud nomadic people. The rugged and remote Samburu wildlife reserve provides some the best and most colorful game viewing in the country.
Samburu Intrepids is a lush oasis in the rugged semi-arid desert of northern Kenya. The 5-star tented luxury camp sits on raised decks overlooking the great Uaso Nyiro River where the elephants sometimes make an appearance, or the crocodiles come out to lounge by the river's banks. In this scorched zone where water is scarce, and the land baked by the perpetual sun, herds of elephants and the big cats roam the plains along with the reticulated giraffe, Grevy's zebra and Beisa Oryx.
The luxury tents are spacious, set under a palm-thatched roof with netted screens on either side to allow for the river breeze and stunning views of the Samburu. The tents have an en-suite bathroom with a steaming hot shower; twin washbasins; a flush toilet; and sockets for shavers and battery charging.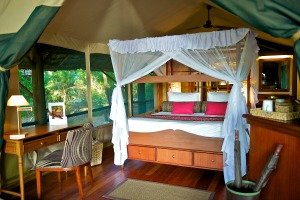 Spend the afternoon discovering the unique wildlife of the reserve. Huge herds of elephant, prides of lion or the solitary leopard are regular visitors around the camp.
Accommodation:  Samburu Intrepids - Standard Tent (B, L, D)
Day 5 - Samburu
An exciting day on safari looking out for species unique to Samburu: reticulated giraffe, rare Beisa Oryx, gerenuk and Grevy's zebra.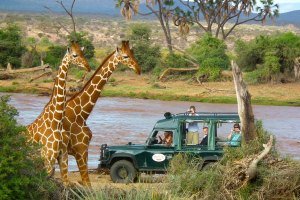 Samburu boasts the most unusual fauna of all East Africa's major savannah reserves. There is the densely striped Grevy's zebra (twice as heavy as the more familiar Burchell's zebra), the reticulated giraffe (neat, geometrically marked coat), the regal Beisa Oryx and a comically long-horned race of the Grant's gazelle. The most unique of them all is the Gerenuk or antelope giraffe, distinguished by its extraordinarily distended neck and freakishly small head.
Accommodation: Samburu Intrepids - Standard Tent (B, L, D)
Day 6 - Samburu/Maasai Mara
This morning you will fly to the world-famous Maasai Mara, backdrop to 'The greatest wildlife spectacle on earth', the annual wildebeest migration. Transfer to the intimate 5-star Mara Explorer Camp situated on a broad, thickly forested bend of the Talek River in the very heart of the Maasai Mara National Reserve.
Mara Explorer Camp is an exclusive 5-star camp offering 10 luxurious and well-spaced tents, each with its own private river frontage and views over the Talek River's wildlife-rich southern banks. This luxurious tented camp lies at the convergence of the Maasai Mara's four main game-viewing areas, where one can have prime views of the spectacular wildebeest migration between July and September. During the remainder of the year, herds of watering elephant, hippos and other animals can often be seen from your private veranda.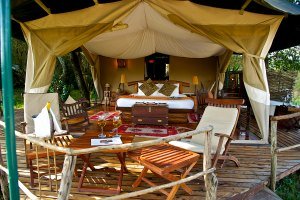 Spend the afternoon on safari and return to camp in time for a hot shower, campfire cocktails and dinner in the luxurious restaurant.
Accommodation: Mara Explorer Camp - Tent (B, L, D)
Day 7 - Maasai Mara
Wake up early for your morning game drive. Look out for the black-maned lions, leopards and cheetahs returning from their night's hunt. Explore Mara River where hippos and crocodiles hide. This afternoon, set out for a second game drive or take a bush walk to learn more about tracking animals.
The Maasai Mara National Reserve offers wonderful scenery of breathtaking vistas, panoramas of vast rolling plains, hills and woodland groves, well watered by the lovely Mara River.
Spend the afternoon discovering the unique wildlife of the reserve. Huge herds of elephant, prides of lion or the solitary leopard are regular visitors around the camp.
Accommodation: Mara Explorer Camp - Tent (B, L, D)
Day 8 - Maasai Mara
Spend the day enjoying spectacular game viewing or take a walking safari to experience the untamed beauty of the Mara.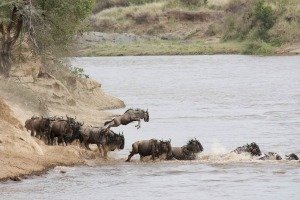 Optional activities include a breathtaking hot air balloon safari over the plains or a visit to a traditional Maasai homestead to experience a way of life unchanged for centuries.
Accommodation: Mara Explorer Camp - Tent (B, L, D)
Day 9 - Maasai Mara/Nairobi/Depart
Bid farewell to the Maasai Mara as you fly to Nairobi, knowing you'll be back some day! (B)
Arrive home with memories of a trip of a lifetime!
Add-Ons
Gorilla Trekking
We suggest you enhance this once in a lifetime trip with a moving and poignant visit with endangered Mountain Gorillas. A 4-night extension to Rwanda to participate in gorilla trekking is highly recommended. See our Gorillas of Rwanda itinerary for more details.
Azure Zanzibar
Zanzibar is the perfect post-safari beach destination, with its white sandy beaches, azure waters and alluring culture. Check out our Azure Zanzibar itinerary or speak to one of our Africa Specialists for more information.
---
OPTIONAL EXCURSIONS
Maasai Village
A visit to a local Maasai village is always an interesting cultural experience as you meet this pastoral tribe and learn about their day-to-day lives.
Hot Air Balloon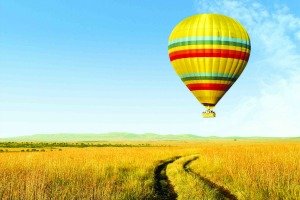 Enhance your safari with a peaceful and scenic view over the Maasai Mara in a hot air balloon. Speak to your Africa Specialist for more information.
Prices are per person in US Dollars, for land arrangements only, based on double occupancy accommodations. Based on a minimum of 2 passengers to operate. Single supplement pricing available on request.
2021
Scroll for more →
| | | | | | | |
| --- | --- | --- | --- | --- | --- | --- |
| | Jan 5 - Mar | Apr | May | Jun | Jul-Oct | Nov - Dec 15 |
| Selling Price | $7799 | $6299 | $6299 | $6599 | $10699 | $7599 |
Inclusions:
Local flights within Kenya as indicated in the itinerary: Wilson / Amboseli, Amboseli / Wilson, Wilson / Samburu, Samburu / Masai Mara and Masai Mara / Wilson
Meet and greet services
Seat in 4x4 vehicle with pop-up photo roof
Services of an English speaking driver-guide 
Guaranteed window seat
Game drives as specified 
All accommodation and meals as specified 
Tortilis Camp: full board accommodation, airstrip transfers,  day & night (pre dinner) game drives & guided bush walks, Bush breakfasts & sundowners soft drinks, beers, house wines, transfer to cultural visits (excluding visits fees) and laundry
Samburu Intrepids Club: Full board accommodation, airstrip transfers and 2 game drives per day.
Mara Explorer Camp: Full board accommodation, 3 x game drives per day, bush breakfast, bush dinner, bird walks, personal butler, laundry, soft drinks, local beers, and house wine.
All park fees and government taxes 
Lion World Travel representative meet and greet upon arrival
Exclusions:
International and regional flights and associated fuel surcharges and flight taxes
Items of a personal nature such as drinks, laundry (unless otherwise stated), telephone calls, etc. 
All other services not mentioned 
Gratuities/tips for Rangers/Trackers and drivers 
Costs of obtaining passports and/or visas 
Trip Cancellation, Interruption and/or Medical Insurance – please note that insurance for this trip is a mandatory requirement from suppliers in Africa – proof of insurance must be provided before bookings are confirmed. It is your personal responsibility to ensure you have enough travel insurance coverage from the provider of your choice. Please let your Africa Specialist know if you would like information on this.
Baggage
Click
here
for airline baggage restrictions
Baggage allowance: Baggage is restricted to 15kg/33lb per person including hand luggage (this includes camera equipment) on safari vehicles as well as on any domestic flights, as space is limited. Soft-sided luggage or duffels are preferable to hard luggage for storage on safari vehicles and on aircraft used within East Africa. Large suitcases of dimensions greater than 24" x 17"x 7" are impossible to store in vehicles and on aircraft and should not be used. (Baggage and personal effects are at owner's risk throughout the tour and baggage insurance for members is strongly recommended).
*Prices in USD, based on double occupancy, restrictions apply
Speak to an Expert
1-800-387-2706
CLICK TO ENLARGE